Farmers' Market Favorites
One of Knoxville's greatest attractions is its farmers' markets. Whether you're a regular attendee or have never made an appearance, it's time to make your way to the next one and experience all it has to offer. And if you're still not convinced, we've outlined the details of our local farmers' market below, including some of our favorite vendors, happenings, and products.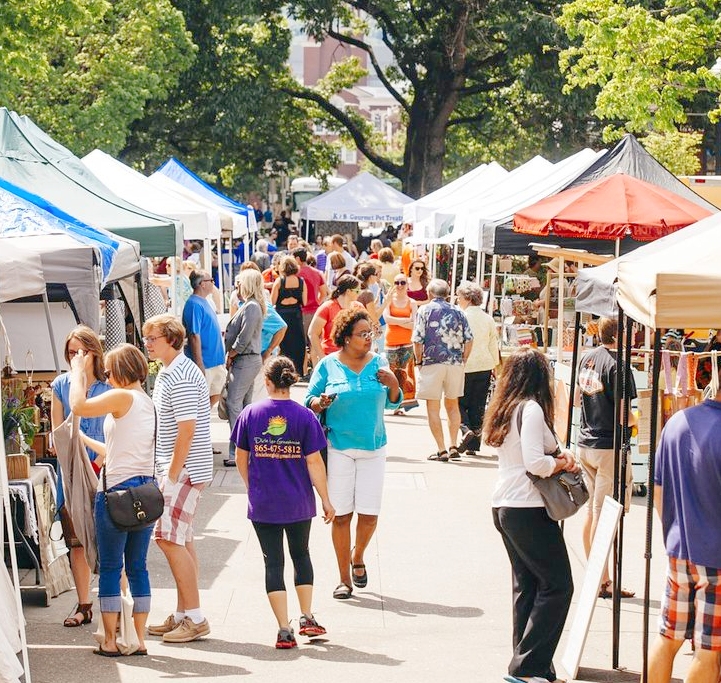 First, Let's Cover the Basics
Our local farmers' market is put forth by Nourish Knoxville, Inc., a Knoxville-based 501(c)(3) nonprofit organization. It was established in 2013 to expand upon the local food work that stemmed from the Market Square Farmers' Market, which has been around since 2004 and eventually grew to be one of the top producer-only farmers' markets in the country. Throughout its growth, it became clear that there weren't any nonprofit organizations working on food issues in the Knoxville area – and so, Nourish Knoxville was born.   
Seasonal farmers' markets are only a small part of the larger picture. Through various other events and programs, Nourish Knoxville aims to cultivate healthy communities by supporting relationships between local farmers, producers, and the public. And Knoxville residents are encouraged to join them in their mission through involvement opportunities.  
The Markets
Nourish Knoxville operates four farmers' markets in Knoxville, and everything sold is grown, raised, and produced by vendors within a 150-mile radius.  Here's what you need to know about each: 
Market Square Farmers' Market

(Wednesdays)

 

WHEN

Every Wednesday, May 4th, 2022 – November 16th, 2022 

10 a.m. – 1 p.m. 

WHERE

Market Square in downtown Knoxville

 

Market Square Farmers' Market

(Saturdays)

  

 

WHEN

Every Saturday, May 7th, 2022 – November 19th, 2022

9 a.m. – 1 p.m. 

WHERE

Market Square, Union Avenue, and Market Street in downtown Knoxville 

 
New Harvest Farmers' Market

(Thursdays)

 

WHEN

Every Thursday, April 14th, 2022 – September 29th, 2022 

3 p.m. – 6 p.m. 

WHERE

New Harvest Park, 4775 New Harvest Lane, Knoxville 
The community can also look forward to the Winter Farmers' Market, which takes place from December 3rd, 2022 – December 17th, 2022.
The Products
Each market hosts a variety of different vendors who offer everything from produce to fresh baked goods, homemade jams, and artisan crafts. Here's just a few of the incredible businesses you can support at our local farmers' markets:  
Buffalo Trail Orchard
Located in southern Greene County, Buffalo Trail Orchard uses sustainable methods to grow blackberries, blueberries, peaches, plums, apples, pumpkins, vegetables, and beef cattle. This "Century Farm" has been around since 1890 and has become one of East Tennessee's favorite pick-your-own farms.  
Clementine's Flower Farm
Clementine's Flower Farm is a family business that's been blooming for generations. And while they've been growing their seasonally foraged Tennessee wildflowers for nearly 80 years, Clementine's is a newcomer to the Market Square Farmers' Market. They offer a wide variety of fresh cut flowers and filler including annuals, and perennials.  
Paysan Bread & Bagels
Paysan Bread & Bagels is the ultimate destination for homemade, fresh baked sourdough bread and bagels. You can take the goodness home with you when you visit them at the Market Square Farmers' Market, or you can stop by their location at Marble City Market to try one of their delicious sandwich creations.  
Silver Lining Design 
Pickup a new piece of sterling silver jewelry from Silver Lining Design. Each item is handmade, and with plenty of unique pieces to choose from, you can find something casual for everyday wear, elegant for black-tie affairs, and everything in between. No matter what your style, Silver Lining Designs offers beautiful creations for any occasion.