Flower Arrangements for Your Fall Table
Flower arrangements can enhance the ambiance of any room, especially during the fall season. Once the weather cools, flower arrangements allow you to incorporate natural elements in your home, giving it a chic upgrade for autumn.  
 Whether you prefer to buy your arrangements from a florist or would rather put them together yourself, we've gathered some information below to help you find the perfect bouquet for your space. From the flowers you should be looking for to current trends and styles, the following will give you plenty of inspiration for your arrangements.  
Relaxed Elegance
Reflect the calming, inviting feelings of fall in your home by decorating with bouquets that emulate a relaxed elegance. Start by looking for an urn or vase that has a wide, low rim. This will allow flowers to overflow and hang loosely over the sides, creating a dynamic yet graceful display.  
The vessel should hold structural branches, shrubs, or foliage with colorful leaves or berries that boast autumnal hues. Combine those with large roses that are slightly battered by the cooler weather for an added uniqueness and textural element. Look for robust focal flowers such as chrysanthemum and dahlias that introduce a bit of drama to the arrangement. For a final flourish, search for wispy stems like spindle tree or acer leaves for a whimsical feel.  
With the relaxed elegance style, balance is key. This kind of bouquet can take on several forms and variations, and none of which need to be symmetrical, but the elements should flow together and work proportionally. Hazy hues and smokey tones blend beautifully together, as well as contrasting colors such as vibrant yellows and rich oranges. When in doubt, read the arrangement from left to right, with color, shape, and form effortlessly carrying your eye.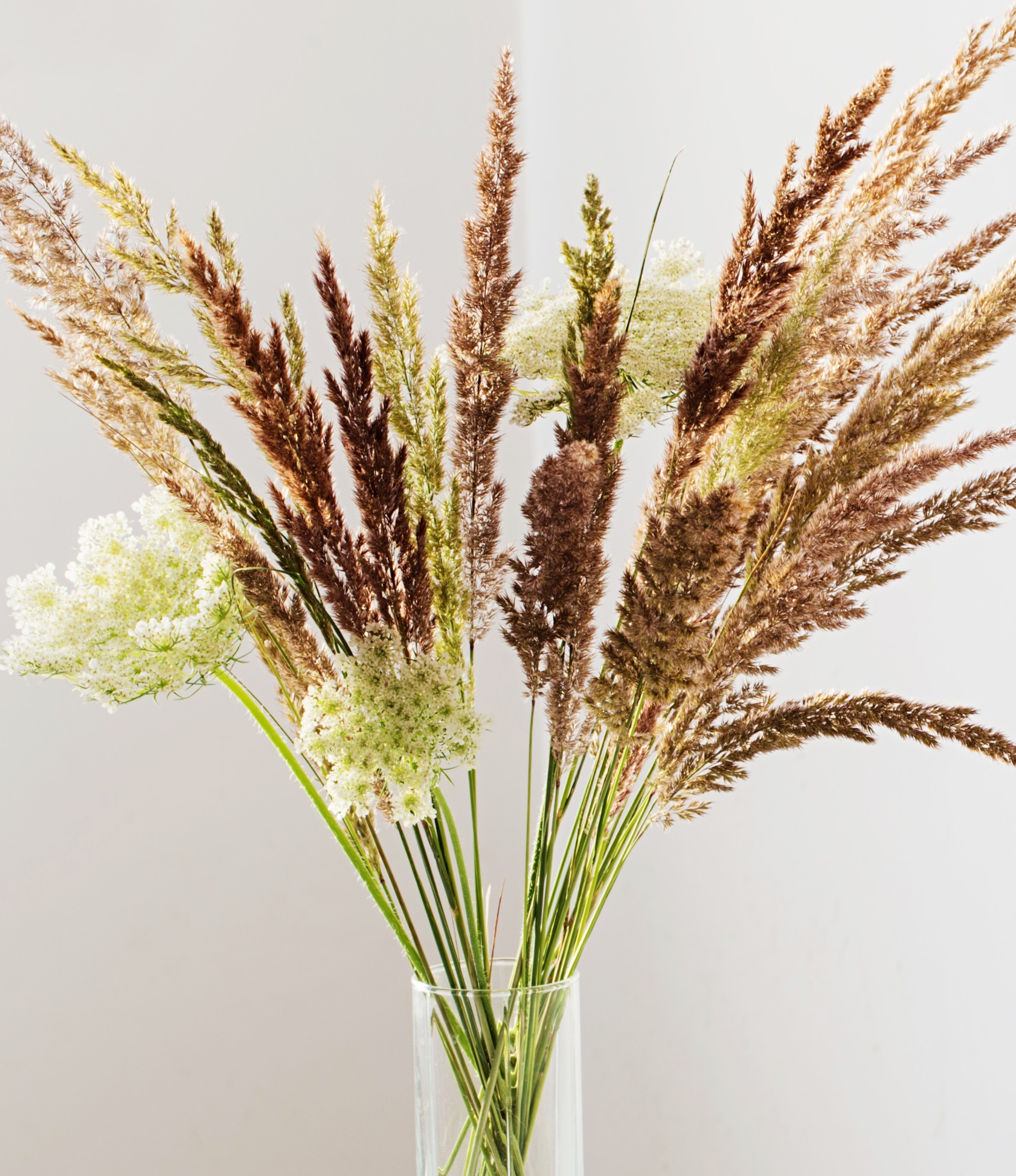 Dried Flowers
Rustic elements are an autumn staple in many homes, and dried flowers have become increasingly popular for those looking to achieve a vintage yet sophisticated flair in their home. Not only can they be combined to create a gorgeous piece for your mantel or dining room table, but also a long-lasting bouquet you can alter and revamp throughout the entire season.  
Keep an eye out for pampas grass stems, baby's breath, preserved eucalyptus, bunny tails, and white nigella. You'll should also look for colors such as dusty pinks, purples, and blues, which work harmoniously with neutral and warm tones.  

Non-Traditional Elements
Have fun with your fall flower arrangements and experiment with non-traditional elements to create eclectic, eye-catching bouquet. You can be as adventurous as you want, but an easy place to start is by using a unique vessel such as a birch vase, champagne bucket, or watering can.  
 Look for seasonal items like oak, brunia, and thistle to be combined with anything from vanda orchids, caraluna garden roses, and anemones. Arrangements should be lush and autumnal, but edgy at the same time. Pairings of light and dark tones with complimentary details such as taper candles work together with florals to create an enduring tablescape that's sure to leave your guests talking.